Enn Purushan Kozhanthai Mathirii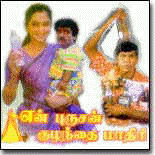 Livingston and Devayani team together in a new film titled 'Enn Purushan Kuzhanthai Mathiri'. Produced by K.S. Rajagopal for R.R. Movie Makers, the film is written and directed by S.P.Rajkumar. Rajkumar has to his credit the successful 'Ponmanam', and 'Enn Uyir Nee Thane' which was an average entertainer. This is the director's third film. The film has music by Deva and lyrics by Arivumathi and Pazhanibharathi. With Livingston and Devayani is Vindhya, who plays a crucial role. The rest of the supporting cast consists of R. Sunderrajan, Ponnambalam, Vinu Chakravarty, Crazy Mohan, C.R.Saraswathi and K.R.Vatsala, younger sister of K.R.Vijaya. Vadivelu is roped in to add to the fun.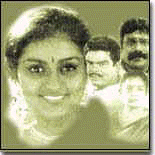 Set in a rural milieu, the film is a full-length comic entertainer. Shooting was on at locations in Kannoor and the Malampuzha dam and gardens. Livingston plays Murugeshan while Devayani plays his wife Maheshwari. Some scenes were picturised on the lead pair recently. Murugeshan is the only son of wealthy parents. Brought up in the lap of luxury, he goes around spending his father's money. With no interest in his studies, he wastes his time in vices like wine and women. His parents decide to get him married, hoping that will reform him. So he is persuaded to marry his cousin Maheshwari. On his wedding night, an unpleasant surprise awaits him. As he enters the room with great enthusiasm, he sees a shy Maheshwari waiting. He takes out a tablet and says, "This is Viagara. I bought it so that our wedding night will be an enjoyable experience." As he approaches her, Maheswari pushes him back saying, " I too have something to show you." Murugeshan is happy that his wife too has come prepared. "We'll make a perfect pair. What have you brought?" he asks. Maheshwari pulls out something from under her pillow. . And to his shock Murugeshan sees that it is a sickle. Says she, "I know what type of a person you are. Try any funny stuff with me, and I'll use it on you." And as she raises the sickle threateningly, a frightened Murugeshan screams in fear.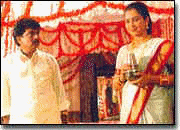 Another scene was shot on Livingston and Vadivelu, who plays Angusamy, Livingston's right hand man, who follows him everywhere like a shadow. Murugeshan and Angusamy spend their evenings drinking arrack in an isolated farmhouse away from prying eyes. The story they tell those at home is that they are going to a temple. On one such occasion, Murugeshan's father-in-law insists on accompanying them to the 'temple'. When they try to put him off, he tells them, 'I know what you both are up to. It is a long time since I've had a drink. Please let me accompany you." At the farmhouse, an inebriated Murugeshan blows cigarette smoke in his father-in-law's face. When the latter protests at the disrespectful act, Murugeshan replies cheekily. "Once you've shared a drink with me, don't expect me to observe formalities." Cinematographer Ramnath Shetty cranked the camera. The film has artwork by Mani Varma, editing by Thanikachalam, stunt choreography by 'stunt' Shiva and dance choreography by Brinda, Shivshanker and Vasu.