JAMES PANDU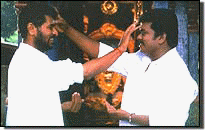 Partibhan is an actor who chooses his roles with care and tries to bring variations in his performances. The audience who expects something different from him every time has accepted his rugged looks and physique. On the other hand Prabhu Deva is the 'boneless wonder' who has twisted and wriggled his way to stardom. Most of the time he is expected only to dance his way through a role, the performance part of it not very demanding. Now, these two artistes who are very different in their acting styles, team up together in a film called 'James Pandu'. James is Partibhan and Pandu, Prabhu Deva. The duo plays the role of conmen in the film who try hard to get reformed and set their lives right. Paried with Partibhan and Prabhu Deva are Kausalya and new face Renu. The foursome is supported by Nizhalgal Ravi, Manobala, Anju, and Vivek. Dance choreographer Shivashanker too will be featuring in a role in the film.
The first shot was taken at the Arunachalam studios. It had James and Pandu standing in front of a Ganesh Temple, taking 'Vibhuti' (sacred ash) and putting it on each other's forehead. Then the duo bow to the idol and address it; "Ganesha, we have been steeling for out livelihood all our lives. Our life is still not a settled one. They say that if we pray to you daily, you will definitely solve our problems. So now we are going to steel you and take you with us. Please steer out life in the right direction." Lending the right touch of humour to the scene was Partibhan and Prabhu Deva. And directing it was Selva, who also writes the screenplay. Cranking the camera was Thangar Bachaan.
The unit has just returned after picturising two songs in the snowly and hilly areas of Gangtok in Sikkim. There at a height of 14,000 feet is based an army camp, reported the highest situated army camp in the world. The unit, that got the permission to shoot there, had much difficulty picturising the songs in the cold hilly area, but have returned triumphant. Participating in the songs were Prabhu Deva and Renu. A ten days shooting schedule in Chennai followed by shooting, at places like Hyderabad, Chalakkudi and Mercara are the other schedules planned. 'James Pandu' has music by S. A. Rajkumar, dialogues by Murthy Ramesh and Nakulan Ponnusamy, editing by Suresh Urs and artwork by G. K. Produced by Vishwas, 'James Pandu" planned to be a thriller, with a proper blend of action and comedy, is scheduled for release on 26th January, Republic Day.

Malini Mannath