Kadhal Solla Vanthen
He is an entertainer with comedy as his forte. But after 'Ullathai Allitha' director, C. Sunder has not really given any hits. Among a few films he has on the floors is 'Kahal Solla Vanthen' starring his lucky mascot Karthik. Teemed with him is Isha Gopikar, the duo pairing for the first time.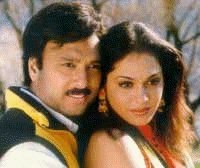 A four-day shooting schedule was held at Vishakapatanam where a stunt sequence was picturised between Kartik and some rowdies arranged by Vivek who plays a crucial role in the film. The scene went like this way. Nandini a village belle comes to the city in search of her lover Jeeva. Vicky appears at the spot, pretends to help her and runs away with her suitcases. As she stands there with a shocked expression, appears lover Jeeva. Happy and relived at seeing him, she describes the guy who had robbed her. Jeeva realizes that it is Vicky who was the culprit and takes Nandini to Vicky's place. Seeing them arrive Vicky realises that his game is up and hires some rowdies to help him out. Kartik plays Jeeva, Isha plays Nandini and Vivek plays Vicky.
Two dance numbers were also picturised at exotic locations in New Zealand. The lyrics for the songs were written by Vijay and set to tune by Deva. Lending his voice for the songs was Hariharan. Cranking the camera was U.K. Senthil Kumar. One of the songs was a dream song where Kartik fantasises about Isha. Initially the duo as friends stay in the same bungalow. They fall in love with each other but hesitate to reveal their feelings, fearing that it might jeopardize their friendship. But at one point Karthik realises that Isha too loves him and fantasises about her in the song. Manivannan plays a crucial role. Dalapathy Dinesh plays the role of the leader of the rowdy gang.
Apart from directing the film, Sunder C. also writes the story and the screenplay. Prasanna choreographs the dances, while Sai Suresh edits the film. The film is produced for Mother Movie Makers by R. Lavanya and is presented by Chitramahal Krishnamurthy.

Malini Mannath