Kannukku Kannaga
'Pankaj Productions has always been associated with good clean entertainers. Films that have a message to convey and also convey it in an entertaining way. The latest film to come out of its stable is 'Kannakku Kannaga' and it has in it Murali, Devayani and Vindhya.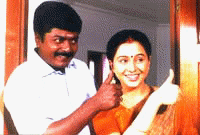 The story explores the relationship between a brother and sister at one level, and between a brother and his cousin who loves him, at another. Murali and Devayani who have played the romantic lead in many films earlier, play the roles of siblings here. Murali's lover is Vindhya, the 'Sangamam' girl.
The shooting for the film was held at various picturesque locations around Kuttralam and at Thenkasi. An interesting scene was picturised at a house near Kuttralam that depicted the deep bond between the brother and his sister, Dharman and Devi. It is raining outside and Dharman enters his house drenched from head to toe. Seeing this, his sister Devi rushes to him with a towel. Dharman goes into a fit of coughing and Devi reprimands him affectionately by playing the concerned sister. She hurriedly runs round the house, bringing in various home remedies, and tries to treat his cough. While Dharman bears all this with stoicism, enter his cousin Selvi. The news of his in indisposition had reached her too. And she comes armed with yet another of her home remedies - chicken soup heavily spiced with chilly powder. She forces Dharman to drink it. His throat burns and Dharman screams out in agony. Hearing his screams, his mother enters and reprimands Selvi. The girl excuses her action, saying that an old lady in her neighbourhood had given her the prescription to drive away the cough and the cold. She forces Dharman to drink more of it. Dharman, caught between the two concerned ladies, can take it no more, and faints. This scene had sentiment mixed with humour and enacting it was Murali as Dharman, Devayani as Devi and Vindhya as Selvi.
Directing the scene was S. Dayalan, who has also written the story and the screenplay. Manohar pens the dialogues, for the film. Canning the shots was Cinematographer Thangar Bachan. Produced by Henry, the film has music by Deva and editing by K. Thanikachalam. Sai designs the sets. The supporting cast consists of Ranjit, Raja, Mansur Alikhan, Anu Mohan, Charuhasan, and K.K. Sounder. Vadivelu is also roped in to provide the comic relief.

Malini Mannath