Kannukkul Nilavu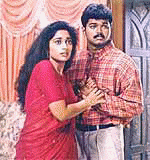 It was director Fazil who discovered 'Baby' Shalini and gave her, her first break in the Malayalam film 'Enne Mammuttiammakku'. The film was a big success and Shalini became the darling of the masses, a multi-lingual child star with fans everywhere. Then it was back to school, till Fazil re-introduced the teenage Shalini as a heroine in his 'Aniyathi Pravu' a big hit that was later remade in Tamil as 'Kadhalukku Mariyadhai', with Vijay in the lead the film was a big success. Vijay's career took a turn for the better, but Shalini has not much work to speak of. Now the successful team of Vijay-Shalini-Fazil comes together again in a new film 'Kannukkul Nilavu'. Mohan Natarajan for 'Sinthamani Cine Arts' produces the film. Fazil, apart from wielding the megaphone, writes the story and the screenplay too.
Vijay plays Gautam, who falls in love with Hema - a live-wire always up to some mischief. Shalini plays Hema and the role is a little different from her sober one in Kadhalukku Mariyadhai. Vijay who is looking forward to the film's release is sure that it would be yet another landmark in his career. Excited about working with Fazil again, Vijay recalls how Fazil enacts every scene for his artistes. Even if the artistes concerned reproduce fifty percent of his effort, the job is done feels Vijay.
Srividya plays the mother of Vijay and Raghuvaran has the role of Shalini's father. For a change Charlie and Damu play Shalini's friends. There are other artistes like Thalivasal Vijay, Ponvannan, Madan Bob and new face Kaveri. Producer Mohan Natarajan calls this film 'a beautiful love story'. The director has planned a shooting schedule of 75 days. The locations chosen are at the picturesque site of Alapuzha, Ernakulam and the hilly area of Vahamam. Anandakuttan's camera is sure to catch the scenic beauty of the place. Gokula Krishnan writes the dialogue in the film. Illayaraja who has worked with Fazil earlier (who can forget his 'Ennai Thalattu Varuvala' in 'Kadhalukku Mariyadhai') composes the music for this film too. Shekar takes charge of the editing, while the art direction is by Mani Suchitra. Pazhanibharati writes the lyrics, while the stunt choreography is by Shiva.
Fazil has always chosen subjects that are different from the ones he had handled earlier. Like 'Poove Poochoodava', 'Varusham Pathinaru', 'Arangetra Velai' and the biggest of them all 'Kadhalukku Mariyadhai'. His latest film 'Kannukul Nilavu' is a sentimental love story that gives importance to family values and respect to elders. The film is scheduled for the 'Pongal' season.

Malini Mannath