KHUSHI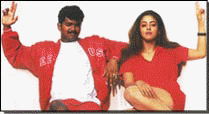 'KHUSHI' was launched at the A.V.M. Studio and the first shot was taken on the lead pair Vijay and Jotika. Present on the occasion were Kamal Haasan, Director Shankar, Ajit Kumar, and music composer A.R. Rehman. Directing the shot was S.J. Surya. Sitting high on the success of 'Vaali', Surya is a confident man. The film had revealed the debutant as a director of promise and had given a boost to the sagging career of Ajit. Well received by the audience it had a well - crafted screenplay. If Surya's script for 'Khushi' is anywhere near the one he had written for 'Vaali', then the director might well have a second hit on his hands. The director also pens the story and the dialogue. Jeeva is the cinematographer.
The film is produced by A.M. Ratnam who was come a long way, since the time he was working for Vijayshanti. His earlier productions like 'Indian' and 'Kadhalar Dinam' were lavishly budgeted, as compared to his earlier films, 'Khushi' may not have such a large canvas. Further his earlier films had some scenes shot at locations abroad. But the producer plans to shoot this film entirely in India. The film is produced by Ratnam under his banner 'Surya Movies'.
Playing the lead is Vijay, who has always been careful in selecting subjects that are different from the run-of-the-mill ones. Even if they are romantic stories they almost always had a twist in the end. Paired with Vijay is Jotika, sister of Nagma. Her cameo in 'Vaali' was well appreciated. Vijaykumar, Nizhalgal Ravi, Janaki and Beena form the supporting team. Vivek is added for the comedy element.
Composing the tune is Deva, while the Lenin-Vijayan team takes care of the editing.

Malini Mannath