Kuberan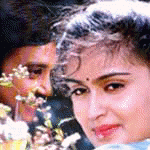 'Tirupati Ezhumalai Venkatesa', produced and directed by Ramanarayanan, had a 100- day run in city theatres. His subsequent ventures, 'Rajakalaiamman' and 'Kandha Kadamba Kathirvela' will probably break even, if not get profit for its producers. Now producer-writer-director Ramanarayanan has on the floors yet another film titled 'Kuberan'. Produced by his home banner 'Thenandal Films', it has Karthik as hero, while Kausalya and Manthara have been booked to play the female leads. Introduced in 'Priyam', Manthara did just a few films in Tamil and then left for the more lucrative Telugu field. The parts were meaty there, compared to the glamour roles she was given here. Manthara made a comeback with Karthik in the recently released 'Kannan Varuvan'. And now she is paired here again with him. Then there are the director's favourites Kovai Sarala and Vadivelu. With Vivek and Manivannan too in the cast, the film promises to be a laugh riot.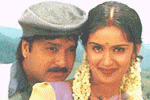 Kausalya plays Kavita a stage singer in search of a house in Chennai. She meets Manivannan, a house broker. Manivannan is in dire financial straits. He has two wives and a horde of children to support. He needs money badly. With his wives away at a temple, Manivannan devises a ruse. He takes some money as advance from Kausalya, shows her his own house and disappears from the scene. And when the wives return, they are shocked to see a girl plonked down in their house and claiming to be a tenant there. As Ramanarayanan directed the scene, his regular cinematographer, N.K.Viswanathan canned the shots.
Karthik plays Kuberan, one of Manivannan's sons, working as a tourist guide at Kodaikanal. He tries to solve the problem and this triggers off a chain of comic events. A scene was picturised on Karthik, Kausalya and Manthara. The latter plays a flower-seller named Chandra, who loves Kuberan. Kavita the singer also loves Kuberan. And Kuberan's easy camaraderie with both girls leads each to think that he loves her. There was a song picturised on the trio, where the two girls fantasise about him and Kuberan dances with each of them in turn.
Banner regular Rajakeerthi does the editing, while Pukazhmani pens the dialogue. S.A.Rajkumar provides the music. Rajkumar with his soft catchy melodies, albeit a little repetitive, seems to have caught the fancy of filmmakers and has signed quite a few films in recent times. 'Kuberan' promises to be a fun-filled entertainer, Ramanarayanan style.