Ma Tujhe Salam Vandhe Matharam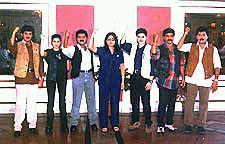 Starring Vijayshanti in the lead, a multilingual to be produced in Tamil, Telugu, Malayalam, Kannada and Hindi has been launched recently. Titled 'MA TUJHE SALAM VANDHE MATHARAM' the film is being produced by Jai Sridevi under the banner Chinny Films. This banner has produced eleven films in Kannada earlier. To suit her 'action queen' image, Vijayshanti has the role of a police officer in this film. An international gang of terrorists mislead the youth of the country, manipulating them for their own ends. The police officer brings them to the right path and exposes the anti-social elements.
The first shot was taken on Vijayshanti following which a twenty-day schedule was held at the Sakleshpur railway station near Mysore. A stunt scene too was picturised involving fifty police dogs and fifty horses. Three helicopters were used to picturise the scene. Choreographing the stunts was stunt master Pazhaniraj and cranking the camera was Janardhan. Directed by Omprakash Rao, the film has music by Deva.
Paired with Vijayshanti are Saikumar, Charenraj and Sharatbabu. There are a lot of youngsters in the film. Sanjay, Anand, Harish, Kumar Govinda, Ramkumar, Vinodraj, Brahmaji, Ashish Vidyarthi, Kazan Khan, Bhavana, and Shantakka form the supporting cast. The shooting for the film is progressing at a fast pace in different locations in Mysore.