Pattali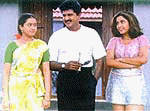 He is the panchayat leader, a man held in awe by the villagers. He is a very strict man, and the villagers dread his arrival to their area. But there is one man who is not affected at all. He is Shanmugham who is not afraid of the zaminder, though he respects the man a lot. He speaks to him with downcast eyes, not looking up at his face. But Shanmugham does not dread him. The zamindar too trusts him and there is no one who would dare say a word against him to the zamindar.
In contrast to Shanmugham is Mani, working as a field-hand for the zamindar. Jealous of Shanmugham's closeness with the zamindar, Mani tries to poison his mind against Shanmugham. "Sir, while we work hard on the fields, Shanmugham spends his time loafing around, playing Kabaddi and Cricket with the village kids. Tomorrow you should not accuse me of having hidden this matter from you". But the zamindar turning a deaf ear to Mani, replies that he knows about Shanmugham better than anyone. "You don't have to tell me how he is" retorts the zamindar and Mani moves away from the place.
This scene was picturised for the film 'Pattali' produced by Roja combines. Sharat Kumar plays Shanmugham, Manivannan plays Mani and Anandaraj plays the zamindar. Paired with Sharat Kumar are Devayani and Ramya Krishnan, Sujatha, K. Nataraj, Vadivelu, Pandu, R. Sunderrajan, Bharat Kalyan, Anu Mohan, Kovai Sarala, Vinu Chakravarty, Chaplin Balu and Master Mahendran form the supporting cast. K.S. Ravikumar, who has also written the screenplay and the dialogue, directs the film.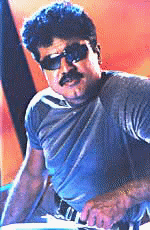 The film is about the deep bond shared between the hero and his aunt, played by Sujata. Sharat is a simple villager. But when any problem crops up he faces them head on. Ramya Krishnan is the city-educated daughter of Sujatha, and Sharat's cousin. And Devayani is the simple village belle. The conflict of emotions, among these people, forms the core of the story. The director says that Ramya Krishnan (she a role similar to the one she had in 'Padayappa') has an even stronger role for which she will be talked about when this film is released.
The Ravikumar-Sharat Kumar combination has given several successful films. This is their seventh coming-together. There are five catchy numbers in it, out of which two were picturised in exotic locations abroad. Vadivelu has a few scenes but they are powerful ones that would bring the house down. Not to talk of the comedy track of R. Sunderrajan, Manivannan and Chaplin Balu says its producer Kajamoiddeen. He has produced under the banner Roja Combines, films like 'Chutti Kuzhandai', 'Porkkalam' and 'Ananda Poongatre'. The film to be released on December 17th has S.A. Rajkumar setting the tune to the lyrics written by five lyricists. Cinematography is by Ashokrajan, dance choreography by three masters Brinda, Lalitamani and Laurence. Stunt arrangements are by Kanal Kannan and editing is done by Thanikachalam.

Malini Mannath