Piriyadha Varam Vendum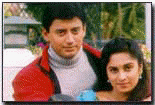 'Piriyadha Varam Vendum' is the lyrical title of this Prashant-Shalini starrer, a film Shalini had signed before her marriage and which had been delayed for financial reasons. The remake of a successful Malayalam film ('Niram' starring Shalini and Kunjako Bobban), the film has the college campus as a backdrop. It's a tender love story where two childhood friends share an easy camaraderie even as they step into adulthood and then slowly realise that they love each other. By that time, the girl's marriage has already been arranged with someone else. The film was earlier titled 'Kadhal Neethana', but then the filmmaker opted for this more lyrical title.
Kamal, who has written and directed many successful films in Malayalam, including this film's original version, directs the film, his first in Tamil. The film's cast boasts of names like Manivannan, Sneha, Vyapuri, Nizhalgal Ravi, Janakraj, Manorama, Ambika, Kovai Sarala, Damu, Pravin, Balaji and Senthil. Khushbu plays a crucial role in the story and Krishna makes his acting debut here. The music is S.A. Rajkumar and the film is being produced by Nikhila enterprises.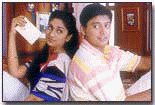 A scene was picturised on Prashant and Shalini. They play Sanju and Nidhi, who have been friends from childhood. Nidhi's marriage is arranged with some one else. As the date draws near, Sanju tells her parents he cannot attend the marriage, as he has to leave town on some urgent work. But her parents want him to stay. "You are like a family member. We need you here to help us." But Sanju is determined. He tells Nidhi, "Your parents trust me so much. How can I tell them how I feel about you today? It's better I stay away from the marriage." Manivannan and Ashwini play Shalini's parents.
A song and another sequence were picturised at Kochi on Prashant, Shalini, Vyapuri, Damu and Balaji. After a childhood as inseparables, Nidhi takes a vacation and goes out of town. Sanju, separated from her for the first time, finds an odd feeling stirring in him. He is restless, unable to eat or sleep. "You've fallen in love," his friends tell him. "Nonsense," says Sanju. He receives a call and seeing the happiness on his face, his friends surmise it must be Nidhi. They are right and then Sanju realises that he does love her. This scene was followed by a song where Sanju fantasises about Nidhi.
Cinemaphotographer Sukumaran canned the shots as Kamal directed the artistes. 'Piriyadha Varam Vendum' is the only film that Shalini has on hand. She had announced her decision to quit acting after marriage.