SANDHITHA VELAI
Karthik and Roja team in Roja Combines new venture, 'Sanditha Velai'. M. Kajamoideen the producer has many successful films to his credit. Like the Pandiaraj - Kushbhu starrer 'Gopala Gopala', the Cheran directed Murali - Meena starrer 'Porkkalam', and the Karthik - Ajit - Meena starrer 'Ananda Poongatre'.
This is the second film directed by Ravichandran; his debut film being 'Kannethire Thondrinal' the Prashant - Simran starrer, a fairly successful film at the box office. Ravichandran had this story idea in his mind for the past couple of years and wanted only Karthik to essay the role of the protagonist Arasu.
Arasu is an engineering graduate and is jobless. He loves cars and motor racing. He gets a job in a car factory, brings in some novel ideas and the factory soon starts increasing its profits. Arasu, to check the company's newly manufactured car, goes on a drive. He brushes against another car that belongs to a politician, by accident. Oblivious of it he drives away. The henchmen of the politician search for him all over the city. And when they encounter each other, Arasu enters a showroom, buys a 'purdah' and escapes wearing it. Cinematographer Jayanan Vincent canned this light comedy sequence.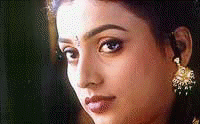 Another sequence was shot between Karthik and Roja, who play the role of lovers in the film. Present also were Chinny Jayant, Ramji and Shakti Kumar who play Karthik's friends. The scene was one where the lovers have their tiffs and the friends try to bring about reconciliation. There is yet another heroine in the film Kausalya, who plays a crucial role. The climax has Karthik choosing between the duo. A stunt scene was picturised between Sonu, the villain from Bombay who plays the role of a motor race champion. Shozhavaram was the venue of the scene, which had Sonu and Karthik participating in a car race.
Vijayakumar plays the role of Karthik's father and the film promises to have quite a few sentimental scenes between father-son. There is the additional comedy track of Manivannan and Vivek. Rathan, Nasser, Thalaivasal Vijay, Sujatha, Kavitha, Pandu, Mouli, Sumitra also form the supporting cast.
Ravichandran pens the story, of a youth's struggle to achieve his goal. He also writes the film's dialogue and the screenplay, apart from wielding the megaphone. Vairamuthu writes the lyrics, while Deva sets them to tune. Dance choreography is by Raju Sundaram, editing by Lenin and Vijayan, stunt arrangements by Dalapathy Dinesh and cinematography by Jayanan Vincent. Most of the sequences were shot in Chennai and in a village near Thirunelveli. The song picturisations were at exotic locations like Ladakh, Manipur and Rajasthan.

Malini Mannath