Simhasanam Vijaykant plays the triple role of the father and two sons in his new film 'Simhasanam'. The sons are step-brothers, for father Vijaykant has two wives. While the older sibling is paired with Khushboo, the younger has Manthara and Radhika Choudhary teamed with him. Radha Ravi, Ambika, Senthil, R Sundararajan, Thyagu, Vyapuri, Anu Mohan, Rajan P Deo, Manorama, Sharmili, Fatima Babu and K R Vatsala provide the supporting cast. Vijaykant's friend and confidant, Ibrahim Rowther, has produced the film for Thamizhannai Cine Creations. It introduces a new director, Eashwaran, who has also penned the story-dialoge and screenplay, apart from wielding the megaphone. Shooting for the film is on at locations in Chennai, Ooty, Pollachi, Udumalai, and Chalakkudi, among other places.
The story centres on the two step brothers, the older one short-tempered and rough, and the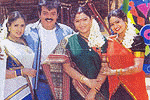 younger, soft and peace-loving, as interested parties try to drive a wedge between them. While the older one almost walks into the trap, the younger man tries to make him see sense. Here, more than the villain, it is the conflict between the two brothers that takes centre stage.
A song was picturised in the lush green valley around Tirumurthy Hills, with rows of eucalyptus trees, palms, fields and a stream flowing through. Village elder Vijaykant and wife Khushboo sat watching as one hundred dancers pirouetted to the music. At the end of the song the two Vijaykants are at each other's throats. Enters Manorama, shouting to them to stop acting foolish and playing into the hands of their enemies. Ambika, Viji, Radha Ravi, Thyagu, Rajan P Deo, Fatima Babu, Vatsala, and R.Sundararajan were present. The song, written by Vairamuthu, had been sung by S.P.B. and set to music by S.A. Rajkumar. Cranking the camera was Rajarajan, Vijaykant's favourite cinematographer.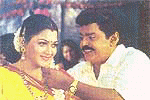 A marriage scene and a fight were also filmed. The marriage ceremony is in progress when Vijaykant with wife Khushboo and, Vijaykant with cousins Manthara and Radhika Choudhary enter the hall. The marriage was of the son of Rajan P.Deo. Some rowdies tease the women and a furious Vijaykant gives them the bashing of their lives. Choreographing the fight scene was fight master Rocky Rajesh. Three cameras were used to shoot the scene from different angles. About one thousand junior artistes were used for the scene. The fight is reportedly one of the highlights of the film. Computer graphics play an important part too.
Vijaykant's two earlier films, 'Vanatheppol' and the more recent 'Vallarasu', were big successes at the box office. This film too has raised a lot of expectations.