SWATANTRAM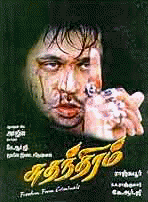 'Action King' Arjun need not worry that 'Muthualvan' has not benefitted him professionally, for he has a slot of his own. Among the films he has on the floors is 'Swatantram' produced by K.R.G. Wielding the megaphone is Director Raj Kapoor who has also penned the story, screenplay and the dialogue.
'Swatantram' centres round a colony and the people who live there. A huge set of the colony was erected at the Vauhini Studios, extending from the entrance of the studio to a kilometre inside. Costing about Rs. Twenty lakhs, the set included an over bridge, a tunnel, shops, roads, hotels, houses and buildings as part of the colony's ambience. A shooting schedule of about 20 days was held in which 500 junior artistes participated daily.
'Swatantram' is also about Vishwa for whom boxing is a passion. His aim in life is to become the boxing champion eventually. Encouraging him in his endeavour are the people of the colony where he lives. For actor Arjun playing Vishwa, it is an action-oriented role where he gets to play some good stunt scenes choreographed by Kanal Kannan. Sharat Saxena the popular villain of Hindi films is brought in to play the villain. A fight scene was picturised where Saxena and 20 stunt artistes participated.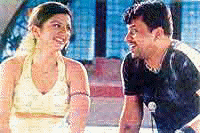 Yet another fight scene was shot at the set of a boxing arena where Arjun, Raghuvaran playing his brother and Ponnambalam playing Guna, the reigning boxing champion, participated. Vishwa's chance to prove his mettle comes when the reigning champion Guna challenges him. Against the advice of his friends, Vishwa accepts the challenge and defeats Guna in two of the bouts. As he prepares for the final round, his brother Raghu approaches him and advises him not to antagonise Guna. "Guna should win this match. If you lose this match to him, your future will be secure," advises the brother. Directing the scene was Raj Kapoor, while M.V. Paneerselvam canned the shots.
Paired with Arjun is Rambha. Radhika, Nasser, Ranjit, 'Thalaivasal' Vijay, Prithwiraj, Bala Singh, Master Mahendran, Chaplin Balu, Babylona and dance master Kalyan in a cameo also feature in the film. Vivek and Vyapuri have been roped in to provide the comedy track. Director Raj Kapoor too plays a crucial role in the film. 'Swatantram' has music by S.A. Rajkumar and one can expect some soft tunes. Raju Sundaram, Brinda and Lawrence choreograph the dance sequences. Scheduled for release on Republic Day, this is K.R.G.'s production venture after 'Minsara Kanna'. The Vijay-starrer did not exactly set the box office on fire.

Malini Mannath