THAI PORANTHACHU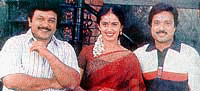 Prabhu - Karthik - Kausalya team together in Anbalaya Productions latest venture, 'Thai Poranthachu'. R.K. Kalaimani wields the megaphone for the film. He also pens the story - screenplay and the dialogue. Kalaimani has had his apprenticeship under various directors and this is his first film.
A fight sequence was shot at the electricity generating station near Gumdipoondi. Choreographing the scene was stunt master Pammal Ravi, while canning the shots was cinematographer K. S. Selvaraj. Present were Prabhu, Kausalya, Ponnambalam and some stunt artistes.
Prabhu plays Giri a house-broker. He stays as a tenant in a colony, where a rowdy named Dharma (Ponnambalam) owns most of the houses. Gita (Kausalya) comes to the city in search of a job and finds it difficult to find a place to stay. Seeing her plight the kind-hearted Giri gives her shelter in his house. This comes to the attention of Dharma. And in the absence of Giri, the man enters the house and forcibly carries Gita to a remote place - an electricity generating station - and attempts to rape her. Giri hears of this and rushes to the place, where he is attacked by Dharma's henchmen. Giri gives them the bashing of their lives. He turns his attention to Dharma and gives him a sound thrashing too.
Karthik plays a crucial role in the film. He is Arvind who runs his own private detective agency. There is a scene where he drops Gita on his motorbike at the house of Giri where she stays. When Giri, who had developed a soft corner for her, reprimands her, she informs him that she is in love with Arvind. Karthik's role is a little more than a guest appearance, but he has a crucial role to play in the climax.
A comedy scene too was shot, and present were Prabhu and Vivek. Giri gets a call from a man who calls himself Akino Kurakuchi. He tells the puzzled Giri that he was calling from Japan. Beaming with pride that his brokerage firm was known as far as Japan, he enquires whether the man needed any land or house in Japan. Akino replies that what he was interested in was Giri getting him the distribution rights for Superstar Rajinikant's new film. Rajini's films are very popular in Japan he adds. Giri agrees to do the needful. "What new inventions do you Japanese have to offer the world?" enquires Giri playfully. "It is you Indians who have captured the world market," says Akino. To a puzzled Giri he explains, "I am talking about your great superstar Rajinikant", and Giri beams with pride. With Prabhu playing Giri and Vivek being Akino, the scene can be expected to be a hilarious one.
The supporting cast consists of Anita who plays Karthik's sister, Pandu, Vijay Krishnaraj, K.R. Vatsala, Babylone and Vyapuri. Music for the film is by Deva. K. Prabhakaran's earlier film 'Kannodu Kanbathellam' starring Arjun and Sonali Bendre was a cropper at the box office. This film should hopefully bail him out.

Malini Mannath