Unakkaga Mattum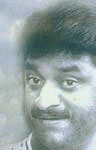 Chinny Jayant took time off from playing college student roles to produce a film a few years back. Titled 'Chinna Pullai' it had him in the lead and paired with him was Revathi. The film, however, didn't do well, but it introduced to the big screen the talented director Bharati. More of college-student roles followed. Now again Chinny Jayant is into his second production venture titled 'Unakkaga Mattum'. And making his debut, as director, is Mahesh, who also writes the screenplay. The film introduces two new faces Adithya and Poonam. The duo plays the role of college students in the film. Chinny Jayant also has the crucial role of a student who is disappointed in love.
Set with the college campus as the backdrop, it has a story penned by Chinny Jayant himself. Says he, "the story is based on a real life incident that happened years ago when I was a student at New College, Chennai". He plays the role of Raja who is in love with his fellow student Lakshmi. He is an orphan but with a lot of property and wealth to his name;
a bungalow and a hotel, all of which he inherited from his mother, given to her by her various admirers. The memories of the life style his mother had led had made the guy almost a nervous wreck. And though brilliant in his studies, he was given to smoking and drinking which gradually told on his health. And he becomes a nervous wreck when he realises that the girl he loves is in love with another.
A crucial scene was taken at a house near Mahabalipuram. While Mahesh wielded the megaphone, cinematographer Udayshanker canned the shots. The scene was of college girl Lakshmi visiting fellow student Raja at his house. Since Raja had not attended college she had tried to find out the reason. And learning that he was at home and unwell, she had visited him at his house. It was Raja's addiction to alcohol that had landed him in problem. Lakshmi admonishes Raja and pleads with him to change his habits that were affecting his health. Raja replies, "See this bungalow and this hotel. It belongs to my mother, " he says sadly. "So do you have to drown yourself in alcohol? Who benefits if you drink so much?" she demands.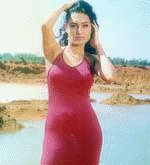 "The benefit is to the cigarette and the liquor company", Raja quips adding," And anyway for whom should I stop all this?" "Stop it for my sake," says Lakshmi. A surprised Raja repeats the conversation to a friend who suggests that the girl must be in love with him.
Yet another scene was taken where Raja hands over a rose to Lakshmi and is shocked when she informs him that Subramani was the man in her life. While Chinny Jayant played Raja, new face Lakshmi was Poonam, and Subramani is played by debutant Adithya from Delhi. There is also Vinu Chakravarthy, Pandu, Damu, Senthil, Thalaivasal Vijay, Satyapriya and Rattan for support. Produced for C.J. Combines Pulamaipithan pens the lyrics, while newcomer Bobby Shanker sets them to tune and editing is by Balan. Shooting for the film is completed, and the film's audio cassette release function was held recently. The film is due for release shortly.


Malini