Vetri Kodi Kattu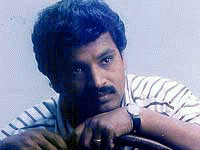 Director Cheran's first film 'Bharati Kannama' featured Partibhan and Meena. His second venture 'Porkkalam' again had Meena, this time teamed with Murali. Both these films were critically and commercially applauded. But in his third film 'Desiya Geetham' the Murali-Rambha starrer, a sort of an experimental film, Cheran failed to click.
Now Cheran is into his fourth venture titled 'Vetri Kodi Kattu'. And this time he plays it safe. He has roped in both Parthibhan and Murali to play the lead roles. This is their first teaming together. And along with them is Cheran's lucky mascot Meena. The cast also includes Vijayakumar, Vadivelu, Ramesh Khanna, Rajiv, Ranjit, Vinu Chakravarthy, Vaiyapuri, Manorama, Ilavarasi, Indu, Uma Maheshwari & Suprajitdas among others.
Murali and Partibhan play characters named Shekhar and Muthu respectively. They are men who work hard at earning a livelihood but at times indulge in little conning acts too. And somehow they make enough money to deposit the amounts in a chit fund. There are hundreds of other depositors who have invested all their hard-earned money in the same chit fund. Then one day the chit fund goes bust. Cheran picturised a scene where Shekhar and Muthu go to the house of the man who runs the Chit Fund company and demand their money back. The man callously replied that their money is safe with him. 'As safe as it is in Reserve Bank', he tells them. The furious duo lashes back at him. 'It's with our hard-earned money with which you have built your bungalow and all the luxury items in it. This costly liquor that you are consuming is got from our sweat and blood; they tell him. Angry at their outburst, the owner hits out at them. His gang of henchmen too rush in to lend him support. But Shekhar and Muthu, like true heroes, thrash the man and his goons. While Murali played Shekhar and Partibhan played Muthu, the owner of the chit fund was played by Anadaraj.
With Meena, there is also Malavika who plays the second lead. Cheran, apart from wielding the megaphone, has also written the story, dialogue and the screenplay. Thangar Bachan, the regular cinematographer of the unit, is now replaced by Priyan. Art design is by Mohan Mahendra. Lenin and Vijayan are in charge of the editing. While Vairamuthu pens the lyrics, Deva sets it to tune. Set in rural milieu, the shooting for the film is progressing at a fast pace in places like Gopichettypalayam, Dindugal and Palani among other places. Cheran has planned to picturise his songs at exotic locations abroad.
'Vetri Kodi Kattu' is produced by Pandian for Sivasakthi Productions. The banner had earlier produced films like the highly successful 'Kadhal Kottai', 'Kalamellam Kadhal Vazhga' and 'Kannethire Thondrinal'.

Malini Mannath