Snehithiye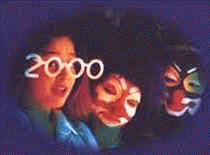 When Amitabh Bachchan wanted to make his come-back film, the first director he approached was Priyadarshan. But the director had his apprehensions and he declined the prestigious offer. For any film featuring the superstar would have to cater to his image and be made within certain guidelines. And Priyadarshan had never depended on stars or their images to make his films. Always one to experiment, one of the few directors held in high esteem by his contemporaries, even outside his home base of Kerala, Priyadarshan has this time made an all-women film. No hero or villains, no males in the cast. The film, originally made in Malayalam, is being dubbed in Tamil, Telugu and Hindi. In Tamil, the title is 'Snehithiye'.
The film has a college campus as the backdrop and a spirited bunch of girls and their pranks. Usually while men maintain their friendships even after marriage, for women the husband forms the focal point of their lives. Here the college girls vow that they will get married at the same time and, what is more, remain friends for life. And they decide to tell a lie. And it is this lie that later become a problem in their lives. Says Priyadarshan, "Normally it is the directors of parallel cinema who experiment. I've tried to experiment within the parameters of commercial cinema. There is a big element of suspense in the story, with a murder thrown in. The whole film depends on the performance of the artistes. Tabu and Jotika have done fantastic jobs."
Incidentally, Jotika was introduced to the screen in a Hindi film 'Doli Sajake Rakhna' (a remake of the Malayalam 'Thenmavin Kombathu' and the Tamil 'Muthu') by Priyadarshan. The film failed at the box office, but Jotika's career was made. Today, she is the most sought after actress in Tamil cinema. Apart from Tabu and Jotika, there is Shrabani Mukerjee, a cousin of Kajol and Rani Mukherjee. Manorama, Ishita Arun, Deepti Bhatnagar, Mita Vashisht, Lakshmi and Sukumari form the supporting cast.
Maharajan ('Vallarasu' fame) has written the screenplay and the dialogues, while the lyrics are by Vairamuthu and Kadhalmati. Sabu Cyril has designed the sets and the editing is by N. Gopalakrishnan. The songs are composed by Vidyasagar while the background score is by Sangitarajan. The film has been produced by Mukesh Metha for Surya Cine Arts. Jeeva is the cinematographer for the film. Says Jeeva, of Priyadarshan, "He is one of the best directors in Indian cinema and it was an experience working with him."
The cassette of the songs was released at a lavish function attended by many top personalities of the film industry. Kamal Hassan was the chief guest. Director K.S. Ravikumar, Rajiv Menon, Vairamuthu and Jotika were present. This is Priyadarshan's 49th film.